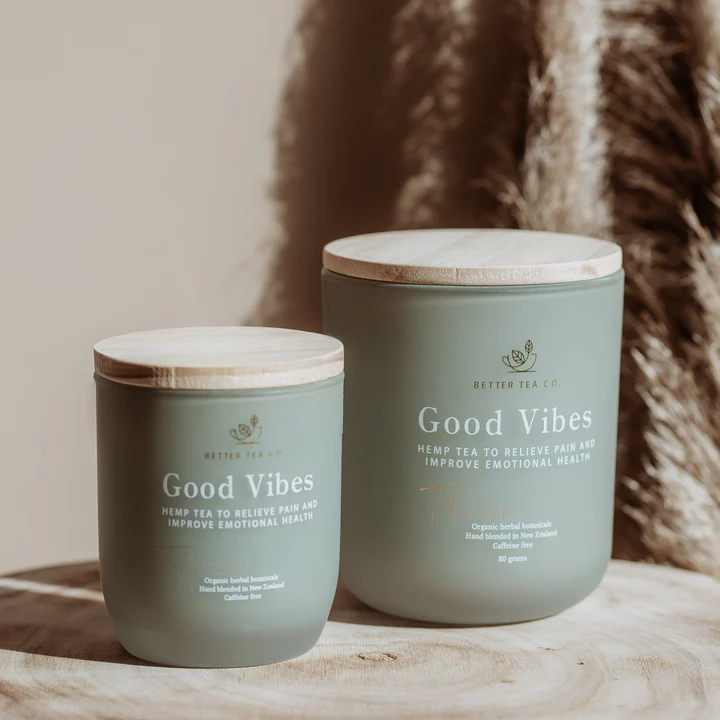 Find relief with Hurunui grown hemp seed hearts containing vital minerals of manganese, magnesium, iron and zinc to give your body a helping hand to recover and restore.
Mindfully blended with centuries old medicinal herbs to relieve pain and reduce inflammation, this tea is bound to give you good vibes. 
Soothing spices of cinnamon and clove combined with fruity flavours of rosehip and elderberry warms you up from the inside out, helping you find true relief both physically and mentally.
This luxury glass jar is a stunning keepsake vessel that will look gorgeous on your countertop.
Available in two sizes:
40g Small Jar (with Good Vibes tea)
80g Large Jar (with Good Vibes tea)
Hemp, Willowherb, Nettle Root, Tulsi, Calendula, Cloves, Cinnamon, Star Anise, Rosehip, Elderberry.
Caffeine free. Gluten free. No added sugars. Check ingredients for known allergies or over-sensitivity. This product is not intended to diagnose, treat, cure or prevent any disease. For medical advice please seek the guidance of a qualified medical practitioner before using.
1: Boil the kettle. Warm your cup or pot first by adding a splash of boiling water. Swill and discard, then fill with fresh water to brew.
2: Place the loose leaf tea in your infuser. The general rule is 1 teaspoon of tea per 250 ml.
3: Place the infuser in your favourite cup or pot and brew for 3-5 minutes (the longer you leave it, the stronger the taste).
We recommend you use these minutes to take a moment for yourself. Treat yourself to a mini-meditation, some mindful breathing or maybe just some good old fashioned daydreaming.
Iced: Brew straight and pour over ice, add local honey to taste